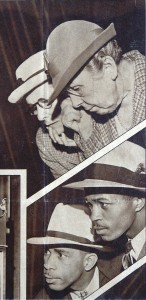 The Lincoln Connection
In a sense, Lincoln is where the story of Magna Carta begins and ends.  A young Lincolnshire cleric called Stephen Langton studied at the schools of Lincoln Cathedral, and later became Archbishop of Canterbury. He instilled in Magna Carta his ideas on just kingship. But King John renounced Magna Carta within weeks of agreeing to it.  He cut a swathe through Lincolnshire in a civil war to save his throne.  Illness ended his life in Newark Castle, a residence of the bishops of Lincoln.  Fighting continued, until the climax was reached in a battle in Lincoln which defeated the French prince and rebel barons, asserting the succession of John's son Henry III to the English throne.
Lincoln's is the only 1215 Magna Carta in sufficiently good condition to travel. In recent years, it has travelled to the United States and to Australia. In 2013 and 2014 plans are being developed for it to retrace the Magna Carta story from St Albans to Bury St Edmunds and then to cross the Atlantic to visit some of the places where the legacy of Magna Carta shines brightest.
(The picture above is of US citizens viewing Magna Carta during WWII)
Our plans for 2015
The Great Exhibition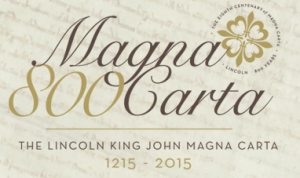 Lincoln will host a unique exhibition in venues across the city from 27th June to 27th September. Lincolnshire's Great Exhibition will be displayed in five venues. In the David P J Ross Magna Carta Vault there will be one of the very rare copies of the definitive 1225 Henry III Magna Carta. In the Wren and Medieval Libraries of the Cathedral there will be manuscripts and printed books. For the first time in 400 years the two volumes of the Chapter Bible will be displayed side by side. Other artefacts will be on display across the city.
The Historic Lincoln Trust has worked closely with the Royal Collection, the British Library, the National Archives, the Victoria & Albert Museum, the National Portrait Gallery, and other great public and private collections to create the greatest exhibition ever staged in Lincolnshire.
Click here for more information about the Great Exhibition.
The Great Magna Carta Weekend
A series of fun family-friendly events are being held in the city from Thursday 11th June until Monday 15th June. These include:
• 13th – 14th June: Across the weekend, Lincoln's famous Steep Hill Street will come alive with the story of King John as told by the country's best storytellers – from rap artists to local performers.
• 13th – 14th June: The Night of Festivals, at Brayford Waterfront. Every 45 minutes, spectators will witness carnivals featuring giant puppets, fireworks, and live musicians. Saturday 10:00 – 20:00, Sunday 11:00 – 16:00.
• 14th June: 'Barmy Britain Part 2', a free Horrible Histories show including a brand new Magna Carta sketch.
• 14th June: Britain's Got Talent winners Diversity are the headline act at a Magna Party Concert at Lincoln Castle. 20:00 – 22:00.
• 15th June: A carnival procession featuring a giant King John.
Click here for more information about the Great Magna Carta Weekend.
The Lincoln Barons' Charter Trail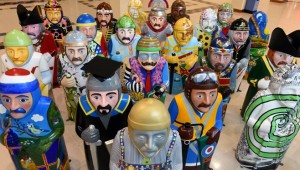 6 feet sculptures of Barons, 25 in all, have been decorated by artists from Lincolnshire and beyond. Local businesses and organisations have worked with the artists to devise a different theme for each Baron, including a Squadron Leader Baron, the Mayor of Lincoln Baron and even a Steampunk Baron.
From the 12th June – 6th September, the finished sculptures will be placed around the city centre, creating a colourful and fun trail for visitors to follow. Each one is marked with a letter – when all the letters are collected, they form a phrase that can be deciphered in exchange for some of King John's gold (chocolate!) coins.
The Baron's Charter Trail is a 'Wild in Art' event brought to Lincoln by The Trussell Trust and Lincoln BIG. The sculptures will be displayed for three months, before being auctioned with all proceeds from the sales donated to The Trussell Trust, the national foodbank charity.
This is a Magna Carta 800th funded project. Click here for more information.
The Eastern Three Choirs Festival
From Thursday 18th June to Sunday 21st June there will be choral and other music at Lincoln Cathedral. A full listing of performances can be downloaded here:Lincoln -E3C Music List Mar 2015.
The Lincoln Castle Magna Carta Vault
Lincoln Cathedral is working in partnership with Lincoln Castle to provide a new permanent interactive exhibition for its 1215 Magna Carta. Lincoln Castle (itself built by William the Conqueror) stands opposite Lincoln Cathedral with the site of the Battle of Lincoln Fair lying in between.
By 2015 a new vault will be provided at Lincoln Castle where Magna Carta (1215) and Charter of the Forest (1217) will be displayed in suitable environmental and secure conditions. A full height enveloping cinematic auditorium will be the primary vehicle for providing in-depth content about Magna Carta, Charter of the Forest, and the deciding Battle of Lincoln Fair against Prince Louis of France in 1217 that followed King John's death. A series of films projected onto a curved 180 degree screen will immerse visitors in medieval battles, momentous occasions in the history of liberty and justice, and fights for rights today.
The £20 million restoration which, in addition to the new home for Magna Carta, offers the opportunity to walk the full circumference of the wall, to explore its eighteenth and nineteenth century prisons (including scenes from Downton Abbey) and to see the results of the archaeology revealed in the restoration, including objects from a previously undiscovered early Saxon Church.
Lincoln's Magna Carta also toured the US in 2014. To find out more, please click here.
More information can also be found here at Visit Lincoln.
The University of Lincoln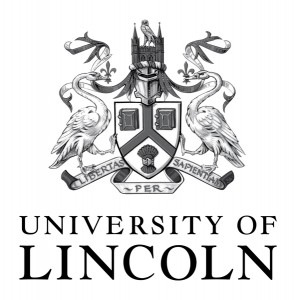 As a seat of learning, the University of Lincoln is also central to the city's Magna Carta 2015 celebrations. The University enjoys a close relationship with Lincoln Cathedral, which is the setting for its graduation ceremonies and offers a rich resource for academic researchers and students. With its noted specialisms in medieval history and historical studies, the University will contribute to regional, national and international endeavours to build understanding and awareness of the significance of Magna Carta. The University of Lincoln has declared 2015 its Year of Liberty and, working alongside its partners across the city and the Magna Carta 800th Committee, is planning a series of commemorative activities, including free public lectures, arts and cultural events, conferences, competitions and scholarship awards.
To see the full breadth of events at the University of Lincoln, click here

The Lincoln Magna Carta Conference
As part of these 800th celebrations, Lincoln record Society and the University of Lincoln are delighted to co-sponsor an international conference on Magna Carta at the University of Lincoln on the 7-9th April 2015. The conference will include a keynote address from one of the leading scholars on Magna Carta, Professor David Carpenter, and academics working in areas of medieval law and society upon which Magna Carta, and the assumptions and myths which grew up around it, had an influence. Delegates will have the option to attend a conference dinner in the Chapter house at Lincoln Cathedral on Wednesday night. On Tuesday night it will also be possible to attend a sung evensong at Langton-by-Wragby, home parish of Stephen Langton, the archbishop of Canterbury said to have influenced the terms of the charter. There will be opportunities on Thursday morning to take a walking tour of Lincoln, to visit the Lincoln Cathedral Library or to take a tour of the new display of the Lincoln Magna Carta at Lincoln Cathedral. places on all these events will be limited.
Click here to download the full Conference programme.
Lincoln Magna Carta Lecture Series
Esteemed experts on Law and Magna Carta will deliver a series of lectures throughout 2015. For more information on a particular event, including ticket availability, please click on the below listings.
– 30th January: Lord Cormack, 'Magna Carta 1215: The Year of Pilgrimage,' at Lincoln Cathedral
– 11th February: Prof. I. E. Moore, 'Magna Carta in a global perspective' at University of Lincoln
– 13th February: V. Rev. Philip Buckler, 'Lincoln's Magna Carta Abroad,' at Lincoln Cathedral
– 24th March: Annual Medieval Lecture at University of Lincoln: Prof. Nicholas Vincent FBA, 'Who Wrote Magna Carta?'
– 27th March: Speaker Roly Keating, Chief Executive of the British Library, at University of Lincoln – click here for more information.
– 7th April: Lord Williams of Oystermouth (Dr. Rowan Williams, previous Archbishop of Canterbury), lecture title 'Centenarians, Teresa of Avila and Thomas Mereton,' at Lincoln Cathedral
– 7 -9th April: Lincoln Magna Carta Conference
– 22nd April: Lord Janvrin (former Personal Secretary to HM Queen), lecture title TBA, at Lincoln Cathedral
– 23rd April: Dr. Rachel Foxley Lecture, 'Magna Carta and the Levellers,' at University of Lincoln
– 15th May: Lord Powell (former Personal Secretary to Margaret Thatcher), lecture title TBA, at Lincoln Cathedral
– 21st May: Lord Griffiths of Burry Port, 'Magna Carta: something out of nothing,' at Lincoln Cathedral
– 21st May: Dr. Mark Goldie FRS, 'Magna Carta, the Ancient Constitution,' at University of Lincoln
– 10th June: (High Sheriff's Legal Service):Lord Judge, Lecture Title TBA, at Lincoln Cathedral
– 17th June: Annual Magna Carta Lecture – click here for more information.
– 16th July: Mark Carney, Governor of the Bank of England, Lecture Title TBA, Lincoln Cathedral.
– 1st October: Prof. Mona Siddiqui, 'Faith and Struggle.'
– 29th October: Canon Dr Mark Hocknull, Chancellor, discusses 'George Boole – Commemorating Genius.'
Featured Article
Today is the very anniversary of the sealing of the Magna Carta, that great charter which laid down the basis for English common law, now spread throughout the world. Magna Carta gave protection of law against despotism by...
Read on...
Recent Articles
Stay updated
If you would like to keep informed about the work of the Magna Carta Trust and our partners, please sign up to the newsletter below.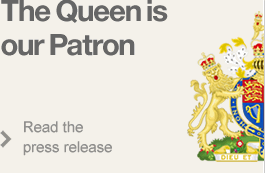 Become a Supporter
There are a number of significant supporter opportunities. Register your interest early to ensure the widest range of options.
Find out more