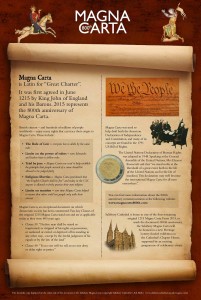 The Magna Carta 800th Commemoration Committee is encouraging local authorities to incorporate Magna Carta into Citizenship Ceremonies in 2015.
The Committee has designed and is producing several thousand special copies of a Magna Carta facsimile – the front side has an image of the 1215 Salisbury Magna Carta and seal and the reverse side an explanation as to why Magna Carta is important today (pictured, left). Local authorities will be able to purchase these facsimiles and provide them to their new citizens throughout 2015.
The first Magna Carta Citizenship Ceremony took place at Brent Civic Centre, where new British Citizens were provided with a facsimile and information about the Great Charter. This ceremony was held on 20th January to coincide with the BBC's 'Democracy Day', which launched the Corporation's coverage of Magna Carta in 2015 – a cross-channel season entitled 'Taking Liberties.' Programmes throughout the year have highlighted Magna Carta's continuing relevance in the 21st Century.
The facsimiles come with their own tube, and appear like scrolls.
If you are a local registrar and would like to organise a Citizenship Ceremony, or would like to purchase facsimiles, please contact Mark Gill at [email protected]
Magna Carta Citizenship Ceremony, Allington Castle, Kent.
Sir Robert Worcester, Chairman of the 800th Committee and Deputy Lieutenant of Kent, hosted a Citizenship Ceremony at Allington Castle, Kent. New citizens were presented with Magna Carta scrolls.

Upcoming Citizenship Ceremonies
20th January, Brent Civic Centre
1st June, Allington Castle
9th June, Salisbury Cathedral
7th September, A London – wide Magna Carta Citizenship Ceremony hosted by Mayor of London Boris Johnson.
19th November, House of Lords, hosted by Baroness Prashar of Runnymede.
2nd December, London – wide Magna Carta Citizenship Ceremony hosted by Brent City Council.
Featured Article
790 years ago, John,the King of England was having a little local difficulty with his barons. His attempts to defend his extensive dominions across the Channel, including Normandy and a considerable portion of western France, had been a disaster...
Read on...
Recent Articles
Stay updated
If you would like to keep informed about the work of the Magna Carta Trust and our partners, please sign up to the newsletter below.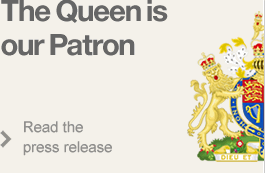 Become a Supporter
There are a number of significant supporter opportunities. Register your interest early to ensure the widest range of options.
Find out more