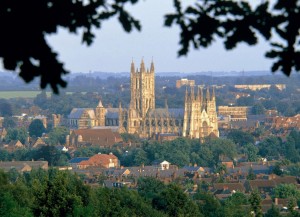 Stephen Langton was Archbishop of Canterbury between 1207 and his death in 1228, and was a central figure in the political dispute between King John of England and Pope Innocent III, which led to the issuing of Magna Carta in 1215.
King John of England proclaimed anyone who recognized Stephen as Archbishop as a public enemy and on 15 July 1207 he expelled the Canterbury monks, who were now unanimous in support of Stephen. In March 1208, Pope Innocent III placed England under interdict and at the close of 1212, after repeated negotiations had failed, he passed sentence of deposition against John.   In May 1213 King John yielded and Stephen and his fellow exiles returned to England.  Stephen then became a leader in the struggle against King John and his leadership and the Barons' military strength forced John to seal the Magna Carta on 15 June 1215.
Canterbury City Council is working with many partners across the District to plan varied and exciting events throughout, and prior to, 2015 to engage communities and raise awareness of the Magna Carta and the importance it had in forming our modern day laws.
Canterbury Festival, 1215: Runnymede Revisited
17, 18, 24, 25, 31 Oct at 11:00 AM
1 Nov – 1 Nov 2015 at 11:00 AM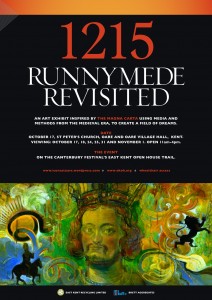 An art exhibition inspired by the Magna Carta using media and methods from the Medieval era, to create a field of dreams. This is a free event. Click here for more information.

Dates for your Diary:
5-6th June: A conference in conjunction with Canterbury University and Canterbury branch of the Historical Association: 'Magna Carta, King John, and the Civil War in Kent.'
6th June: A peal of bells in honour of Magna Carta
6th June – 6th September: Canterbury in the Age of Magna Carta exhibition at The Beaney House of Arts & Knowledge.
9-17th June: Magna Carta Services at Canterbury Cathedral and procession through the City on the 13th June
11th June: Canterbury in the Age of Magna Carta Lecture, The Beaney Learning Lab, Adults £6.00, Members £4.00 – click here for more information.
13th June: Canterbury Family Activity Day. This City-wide day of events and activities will see major heritage sites at Canterbury welcome families to historical trails and other attractions, including a service at Canterbury Cathedral. Click here for more information.
13th June: Canterbury Legal Walk.
13th – 28th June: Our Great Charter, an exhibition at The Beaney. What do we think about the Great Charter? This tactile exhibition offers a new angle on the events which took place 800 years ago.
"5th June: Canterbury Castle at the time of Magna Carta; Thursday 25 June, 6pm to 7pm, The Beaney Learning Lab, Adults £6, Members £4. Click here for more information.
2nd – 19th July: Magna Carta Rediscovered. Canterbury's Beaney House of Art & Knowledge will join the commemorations with a major touring exhibition, fully funded by the Heritage Lottery Fund. The exhibition will embrace a range of interactive techniques to bring Magna Carta to life and will be displayed in the Beaney's Front Room community gallery. This free exhibition will enable significant public access to rare and unseen historical documents from this period and feature the 1300 re-issue of Faversham's Magna Carta for the first time.
4th – 5th July: Medieval Fair at Goodnestone Park Gardens. Click here for more information.
4th July: Magna Carta Dinner with talk by guest speaker Dr David Starkey, at Canterbury Cathedral Lodge, 7pm. Click here for more information.
8th – 11th July: The Rights of Others, at the Marlowe Theatre. Exploring the treacherously winding path in search of freedom, the production poses questions about our rights and liberties. What have we the right to say in a free country? What right do we have for privacy? Click here for more information.
9th July: Magna Carta Talk and Afternoon Tea, Canterbury Cathedral Lodge. Talk by Cressida Williams, Head of Canterbury Cathedral Archives and Library, on the importance of Stephen Langton and Canterbury Cathedral in the story of Magna Carta. To book call 01227 865350.
Other Commemorative Events:
Gifting for babies born the 15th June, 2015
Full translation of the charter with clause by clause commentaries and pictures to appear on a dedicated website – more details TBA
An Exhibition at the Kent History and Library Centre in Maidstone – more details TBA
Frequent events at the Beaney House of Art and Knowledge
Magna Carta day for schools where children can develop their own freedom charter – More details TBA.
The brewing of a Magna Carta 800th Ale (by Shepherd Neame, Britain's oldest brewery)
All the planned events will be supported by additional information on dedicated websites as well as the Council and Tourist Information sites and educational resources will also be produced.
Faversham Town Council hold a certified copy of the Magna Carta and it will play a big part in the celebrations, including having a Magna Carta event and display in the run-up to June 2015.
For more information contact Alison Hargreaves, Executive Support Officer on [email protected] 01227 862082
Featured Article
790 years ago, John,the King of England was having a little local difficulty with his barons. His attempts to defend his extensive dominions across the Channel, including Normandy and a considerable portion of western France, had been a disaster...
Read on...
Recent Articles
Stay updated
If you would like to keep informed about the work of the Magna Carta Trust and our partners, please sign up to the newsletter below.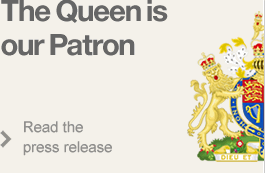 Become a Supporter
There are a number of significant supporter opportunities. Register your interest early to ensure the widest range of options.
Find out more