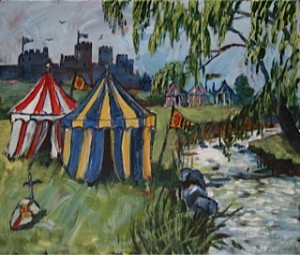 The Musical:
In 1999, composer Terry Trower and lyricist Stephen Sylvester worked together to create a full length musical, Magna Carta: 1215. About a fundamental moment in the history of England, it was their contribution to the cultural celebrations that marked the start of a new millennium. Written for 6 actors and singers with a small band, the full length musical was performed in Runnymede in 2000. At that time, opera singers were used as they were able to sight-sing. Using modern beats and present-day language, the events leading up to the sealing of Magna Carta were told in an accessible way.
The genesis of this was an unusual one. While walking his dog on Runnymede, Terry stumbled across a woman from the United States and began talking about the significance of the site and the legacy of the Magna Carta. The woman was a descendent of the Archbishop Stephen Langton, one of the most influential pressures on unifying the barons against King John and asking him to give the Magna Carta Royal authority.
Royal Holloway, University of London, now plan to stage a number of songs from the musical as part of their Great Charter Festival on Sunday 14 June 2015. There will be many photos of this event, forming a fun resource for the music that sang in the Millennium, and now sings in the 800th anniversary of the very events that inspired its inception. In 2014 Terry reworked his musical Magna Carta 1215 using an electronic backing track. On Saturday 13th of June, songs from the show were played during the Barons' Gathering at Staines upon Thames as part of the 3 day festivities for Magna Carta. On Monday the 15th of June at the Runnymede Magna Carta Foundation of Liberty Celebrations, Terry was one of the invited guests and was presented to Vice Admiral Sir Timothy Lawrence and the Archbishop of Canterbury.


How to get Involved:
Separate to the musical, more music is soon to be released. One comedic piece, one about two monks, the other about Eleanor of Aquitaine, are to be completed shortly. Terry is also working on a piece called Six Songs in Celebration of Magna Carta 1215, for Male Voice Choir & Organ. This will be released as a score.
Terry is keen to share his music with youth groups, schools, colleges and amateur musical societies across the world for a truly nominal fee. Performers may stage the whole musical in either version, or just select one or two songs, as suites – please simply email Terry at [email protected] to discuss your requirements, ask for backing tracks, and allow us to see how widely the songs and script are being enjoyed. If you would like a copy of the script, in full or in parts, please email also.

Music Tracks:
Click the song title to download. These can be used for a truly NOMINAL fee:
Misty Dawn
Archbishop's Song
A Knight May Fight
In Future Ages
Script Samples:
Here are two samples from the script, including the opening credits!
Magna Carta 1215 Opening & Credits
Sample from script
For the complete copy & more information, contact Terry at [email protected]
Featured Article
Magna Carta, or as it is properly called the Great Charter of Liberty, was born on 15 June 1215 at Runnymede when King John – Bad King John as he is more commonly known – was persuaded to accede to a number of demands made...
Read on...
Recent Articles
Stay updated
If you would like to keep informed about the work of the Magna Carta Trust and our partners, please sign up to the newsletter below.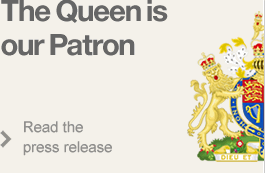 Become a Supporter
There are a number of significant supporter opportunities. Register your interest early to ensure the widest range of options.
Find out more