Odiham, and its close neighbour North Warnborough, nestle in rural north Hampshire. The modern hustle and bustle of village life belie the key role our villages played in the sealing of Magna Carta in 1215.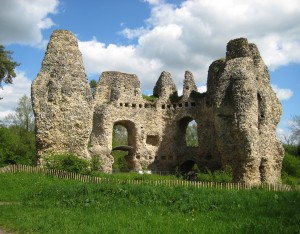 In 1207, King John began construction of a castle on the banks of the local river Whitewater.  Odiham Castle (pictured, also known as King John's castle) provided a convenient and secure stopping place, half way between Windsor and Winchester, where he could also indulge his passion for hunting in Odiham's Royal Deer Park.
It is believed that the king and his entourage rode out from Odiham castle on the morning of 10th June 1215 to meet baronial leaders on the water meadows of Runnymede, where the Articles of Barons was probably sealed on the same day.
The remains of this historic building, now preserved by Hampshire County Council and open to the public, will be central to a weekend of community festivities planned for the Magna Carta 800 celebrations.
Magna Carta Festival (22-25 May 2015)
King John was at Odiham frequently during May 1215 and the spirit of Magna Carta was captured in great style during events to commemorate the 800th anniversary of its sealing. King John's castle is actually in the village of North Warnborough, so a new castle was built to give Odiham its own, as the focal point of school celebrations on Friday afternoon. This led into an evening procession of approaching 400 children and adults dressed for the occasion and led by the 'Bishop of Winchester' preceding King John astride a war horse. Meanwhile a medieval village had appeared around King John's Castle to bring history alive for everyone as the sun continued to shine on Hampshire during Saturday, Sunday and Monday. Families and many children flocked to this free event where Feudals Living History and other reenactment groups transported all back 800 centuries to life in 1215. The castle is relatively remote so minibuses and boats on the Basingstoke canal catered for those who were less mobile, making everything accessible to everyone. Daily arena events added to the occasion, ending with a confrontation between opposing forces straight from the 1st Barons' War.
Odiham's commemorative Embroidery was on display in Odiham throughout the weekend, attracting a continuous stream of visitors who progressed between this and a stunning Flower Festival in All Saints Church, where a Magna Carta Exhibition featured an inspiring reproduction of the French translation of Magna Carta issued from Odiham on 27 June 1215. Most visitors came here before or after visiting the exceptionally large Living History encampment, with children often returning on consecutive days.
Between ten and twelve thousand people thronged the paths and lanes of Odiham over the four days. The goals of education, participation and community were visibly achieved thanks to a grant from MC800th and matched funding from the National Lottery and others. Success and enjoyment were captured through numerous photographs that exploded across Facebook, adding to the insight given by a major TV feature on South Today on Friday evening.
Other Events:
On 6th June 2015 a walking event will recreate King John's journey from Odiham to Runnymede, using the Basingstoke Canal towpath and ending in a picnic beside the Thames. Sequential bell ringing on 14 June 2015 will begin at Odiham with successive towers along the way joining in until bells are ringing all the way to Wraysbury, Windsor and Runnymede.
The Odiham Embroidery
A principal focal point of our plans is the Odiham Embroidery. The design for this magnificent embroidered panel depicting key events in Odiham's rich history was officially unveiled in March, and stitching is now well under way by around 70 volunteers from the local community. It is likely to take around 18 months to complete.
The complex embroidery, designed by Odiham-based artist Mary Turner, depicts 800 years of local history from the time of Magna Carta and reflects the history of England as it was played out in our parish. It features King John and the barons setting off for Windsor and Runnymede, visits by both Queen Elizabeth I and II, the meeting in Odiham that led to the founding of the veterinary profession in Britain, French prisoners of war held on parole at Odiham and North Warnborough during the Napoleonic war, and the great heavyweight boxing match between Mendoza and Humphreys in 1788 – among many other scenes. Eleanor de Montfort, King John's daughter, is also shown, along with her husband Simon de Montfort who returned to join her at Odiham Castle following the first Parliament with elected representatives in 1265.
The panel has been divided into individual parts that are being worked on separately by volunteer stitchers. Once completed, all the parts will be stitched on to the main canvas to complete the design.
Considerable research and planning has gone into the project. It is being stitched in traditional materials and techniques that have been recommended by the Royal School of Needlework at Hampton Court and the National Needlework Archive in Newbury.
For more information about any of the above, please contact  John Champion (Chair, Odiham Society)  [email protected]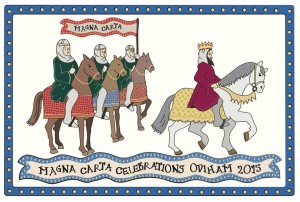 Featured Article
Rex no potest peccare (The King can do no wrong). How many of you have read Unbroken, the bestseller by Laura Hillenbrand about Olympic runner Louis Zamperini 's experiences in World War II? Perhaps ...
Read on...
Recent Articles
Stay updated
If you would like to keep informed about the work of the Magna Carta Trust and our partners, please sign up to the newsletter below.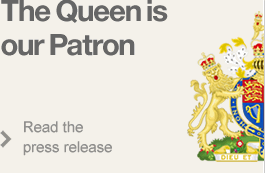 Become a Supporter
There are a number of significant supporter opportunities. Register your interest early to ensure the widest range of options.
Find out more