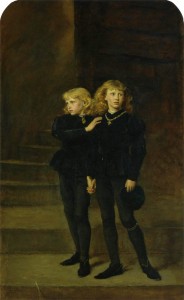 'Magna Carta and the Loss of Liberties in Victorian Art' ran from 1 – 19 June at the Picture Gallery at Royal Holloway, University of London. world-class art collection celebrated Magna Carta's 800th anniversary. It was the first exhibition in the College's history, and explored the themes of freedom, justice, and human rights in the Victorian period. It examined how 12 paintings from the Holloway collection related not only to the ideas in Magna Carta, but also to issues that society is still dealing with in the present. Paintings from the Holloway collection which depict breaches of human rights include 'The Princes in the Tower', The Railway Station' and 'The Babylonian Marriage Market.'
Thousands visited the exhibition, making it a huge success. Two interpretation guides were developed, one for adults, one for children.
Throughout the exhibition, a series of lectures, talks and tours were delivered by the curator Dr Laura MacCulloch and the art collections intern Michaela Jones. Professor Miles Taylor (University of York) and Dr Ruth Livesey (Royal Holloway), also lectured at the Gallery.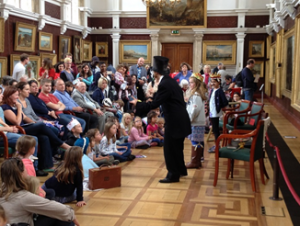 The exhibition was accompanied by both adult and family trails as well as open days with drama performances and art activities for children. Five school workshops allowed children to investigate both the art collection and the idea of human rights.
Visitors joined in, in a 'Write to Rights' postcard project and explored their own thoughts about modern day liberties.  Contemporary attitudes to human rights were explored by Royal Holloway, University of London's Media Arts students who produced films inspired by the paintings. As well as enhancing access to the collection, the exhibition and the accompanying activities shed new light on the Magna Carta, and its relevance across the centuries in a range of artistic and digital formats.
Pictured above: John Everett Millais, The Princes in the Tower, 1878 © Royal Holloway, University of London.
A family day, part of the Great Charter Festival, took place on the 14th June.
For more information about Magna Carta and Royal Holloway, University of London, click here.
Featured Article
Introduction – Runnymede and all that. Winston Churchill described the Magna Carta as "the foundation of principles and systems of government of which neither King John or his nobles dreamed". Now in Politics we're used to the law of unintended consequences...
Read on...
Recent Articles
Stay updated
If you would like to keep informed about the work of the Magna Carta Trust and our partners, please sign up to the newsletter below.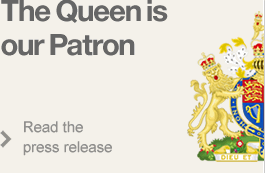 Become a Supporter
There are a number of significant supporter opportunities. Register your interest early to ensure the widest range of options.
Find out more