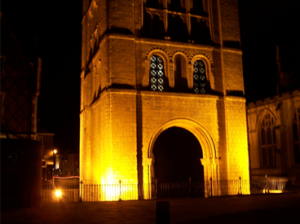 "This will be a new Magna Carta event for a new generation to remember, as previous generations have remembered the pageants and pageant play."
An exciting and attractive Light and Sound event for the public over six evenings in October drew together strands from the past and the present to really show how the Magna Carta has been and still is part of Bury St Edmunds' heritage.


The Bury St Edmunds Magna Carta 800 committee wanted to present an up to date version of the traditional pageants to tell the Magna Carta story of the town.

Charter Square is the modern town centre of Bury St Edmunds. Visitors then progressed to older sites in the town. The medieval pilgrim route in to the Abbey was along modern Church Gate Street to the Norman Tower. The trail headed towards the Abbey ruins following the best route available. The site of the Abbey Church Nave is a key location for the story of the barons and the 2014 meeting. Then, at the crossing in the Nave the legacy of the Magna Carta Barons' meeting in Bury St Edmunds for present and future generations were shown through an imaginative composite sculpture of panels made by schools.

The detailed content of the light and sound event was partly dependent upon the themes listed above regarding the historic story of the Magna Carta in the town, as presented by Bury people in earlier pageants; partly dependent upon modern themes developed in schools through their work on the Magna Carta and what impact it has had upon our lives.
Click here to see the images of the Bury light and Sound Show in October 2014.


Further information:
• web pages at http://magnacarta800.org.uk/
• Facebook at https://www.facebook.com/BuryMagnaCarta800
• Twitter at https://twitter.com/BuryMC800
Featured Article
Today is the very anniversary of the sealing of the Magna Carta, that great charter which laid down the basis for English common law, now spread throughout the world. Magna Carta gave protection of law against despotism by...
Read on...
Recent Articles
Stay updated
If you would like to keep informed about the work of the Magna Carta Trust and our partners, please sign up to the newsletter below.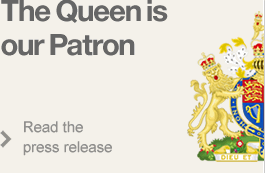 Become a Supporter
There are a number of significant supporter opportunities. Register your interest early to ensure the widest range of options.
Find out more