The war of 1215-17 was very much a war of castles. According to Sean McGlynn in his Blood Cries Afar, Stroud: History Press, 2011 over 200 were directly involved in the war, many during John's destructive drive north in 1215-16.  As a result there are a great number of military sites with Magna Carta connections. The following has been compiled by Julian Humphrys, Development Officer at the Battlefields Trust.
Pre Magna Carta
John's attempts to raise money to finance his unsuccessful wars against France caused tension at home and alienated the baronage and the church. Outmanoeuvred by his opponents, John agreed to Magna Carta to buy time.
1213 St Albans (meeting)
What has been described as the first draft of Magna Carta was drawn up in the Abbey.
1214 Bouvines (battle)
A decisive French victory which confirmed their possession of most of the former English lands in France.
1214 Bury St Edmunds (meeting)
Leading barons agreed to impose a charter on the King.
1215 Northampton (siege)
Effective start of Barons Wars as rebels unsuccessfully besieged Northampton castle. First of three sieges. (Scanty remains today).
1215 Exeter (siege)
Captured by rebels
1215 London (occupied)
London opened its gates to the rebels
1215 Runnymede (meeting)
Sealing of Magna Carta
Post Magna Carta
John repudiated the terms of Magna Carta and mounted a counter-offensive with an army bolstered by large numbers of foreign mercenaries, ravaging rebel barons' lands and driving north as far as the Scottish border. The rebel barons offered the crown of England to Prince Louis of France who invaded England. He conquered much of south-eastern England but, crucially, was unable to capture Dover castle. John died at Newark. The succession of Henry III and the reissue of Magna Carta by Regent William Marshal, deprived Louis of the support of many barons. Defeated at Lincoln and, at sea, at Sandwich, he withdrew from England in 1217.
1215 Rochester (siege)
Rochester castle commanded an important river crossing.  It was besieged by King John after being seized by rebel barons. John's miners brought down a corner of the keep using the fat of 40 pigs to help burn down the props of their tunnel. (The corner was later rebuilt with a curved not square tower). The keep had a cross wall so rebels retired into the undamaged half but were eventually starved out.
1215 Norham (siege)
Unsuccessfully besieged by Alexander II of Scotland who had invaded northern England in support of the rebels.
1215 Ely (sacked)
One of a number of places to suffer during John's vicious drive northwards.
1216 Berwick (stormed)
Captured and sacked by John.
1216-17 Sandwich (landing and naval battle)
Louis of France landed nearby in 1216. The following year his fleet was defeated off Sandwich in a naval battle
1216-17 Dover (siege)
One of most important sieges in English history. The castle was held by Hubert de Burgh against Louis of France who had invaded England  at the behest of the rebel barons. The failure to capture such a strategically important castle was a major set-back for Louis. The siege featured many aspects of siege warfare: attempted bribery; siege engines; mining. The French captured Dover's barbican and undermined the main gate (subsequently rebuilt and blocked) but the defenders built a barricade and drove back the French. Evidence of mining tunnels can still be seen.
1216 Windsor (siege)
The other south eastern castle to hold out for John against Louis.
1216 Odiham (siege)
Held by small garrison loyal to John but captured by Louis after a two-week siege.
1216 Berkhamsted (siege)
Motte and bailey castle captured by Louis. May have been first place where a counterweight trebuchet was used in England.
1216 Barnard Castle (siege)
Successfully held for John by Hugh de Baliol against invading Scots. Leading rebel and Magna Carta surety Eustace de Vesci was shot dead by a crossbowman during the siege.
1216 Newark (event)
King John died at Newark in late 1216
1217 Lincoln (siege and battle)
Town was pro-rebel, the castle was held by Nicola de la Haye the pro-John female castellan. French forces besieging the castle were routed by a relieving force under William Marshal. Lincoln was thoroughly sacked and its goods carried off by the victors, earning the battle the nickname 'Lincoln fair'.
Worcester (tomb)
King John buried in Worcester Cathedral
London (tomb)
William Marshal buried in Temple Church
Restoring royal authority
A reaction by the barons who were now supporting the young Henry III against uncontrollable foreign castellans who refused to return the castles which they had held for John during the earlier war.
1224 Bedford (siege)
A well-documented and hard-fought eight-week siege, again involving many aspects of siege warfare, which saw the recapture of the castle by royal forces from the lawless de Breautes. Very little of the castle remains.
2nd Barons' War
Dissatisfaction with Henry's methods of government led to the 1258 Provisions of Oxford which sought to establish royal accountability to a council of barons. Henry III reneged on the Provisions, leading to war between the royal faction and the leader of the barons, Simon de Montfort, who was victorious in 1264. In January 1265 de Montfort called a Parliament which is seen as the earliest forerunner of the modern Parliament because it included representatives from counties, cities and towns. In 1266 he was slain at Evesham.
1264 Northampton (siege and battle)
De Montfort's supporters were besieged in the castle. Royalists defeated a relief force and captured the castle.
1264 Rochester (siege)
Defended by Royalists during a week-long siege.
1264 Lewes (battle)
Victory for de Montfort rebels over Royalist forces under Prince Edward. Henry III was captured at the Cluniac Priory in the town. De Montfort's victory made him de facto ruler of England. (EH Registered battlefield)
1264 Barham Down (muster)
Forces loyal to de Montfort gathered near Canterbury to oppose a possible French invasion in support of Henry III
1264-5 Pevensey (siege)
Held by forces loyal to Henry III against the forces of de Montfort
1265 Evesham (battle)
De Montfort defeated and killed by Royalist forces under Price Edward. Royal authority restored. (EH Registered battlefield)
1265 Peatling Magna (peasant action)
Leicester village. Scene of an important confrontation between the squire of a Royalist knight and local villagers who considered him an enemy of the welfare of 'the community of the realm.'
1266 Kenilworth (siege)
Held by Montfortian rebels, chiefly in an attempt to reduce severity of the penalties they'd incurred for opposing the king. One of the largest sieges in medieval England. The Royal effort is extremely well documented in the Liberate Rolls. The siege features many aspects of siege warfare: negotiation; psychology; siege engines. Sickness and a relaxation of terms eventually led to the rebel surrender.
1267 Ely (siege)
Final surrender of the last Montfortian rebels.
Featured Article
The early settlers in the United States took with them copies of the Magna Carta. One undertaking given by King John in that Charter was as follows: No freeman shall be arrested or imprisoned or disseised or outlawed or exiled or in...
Read on...
Recent Articles
Stay updated
Preparations are underway for some truly memorable commemorations from major international conferences and exhibitions to local events and parties and a Magna Carta tour. To be the first to hear of these, sign up to the newsletter below.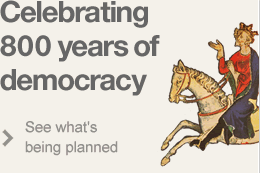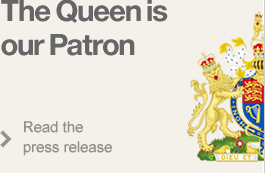 Become a Supporter
There are a number of significant supporter opportunities. Register your interest early to ensure the widest range of options.
Find out more